A Modular & Highly Functional Hoodie to elevate your day
Weatherproof Without Compromise
Ultra Hoodie offers excellent durable water repellent funtionality and stops any wind from coming through while keeping the inner surface breathable.
Performance Ready
Unstoppable movement with 4-Way-stretch & thermoregulation material.
Maximum Utility
Dedicated pockets and storage space for your Every-Day-Essentials.
M-system Design
Most advanced modular system on apparel
M-system Pack_Attached Mode
A compact water resistance pack for your Every-day-Essentials. Magnetically attach/detach to the front of Ultra Hoodie.
M-system Pack_Sling Mode
Transform into sling mode for cross body or simply wear it around your neck. 
M-system Cardholder
Magnetically attach/detach with M-system Strap. 3 individual slots, one for ID, one holds multiple cards with a pull lever for easy access, and another separate slot for quick contactless access.
M-system Strap
Adjustable strap with magnetic mount to quickly snap on/off M-system pack and cardholder.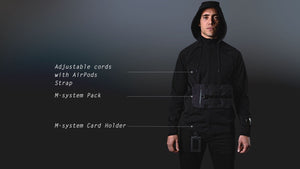 interchangeable and adaptable modular system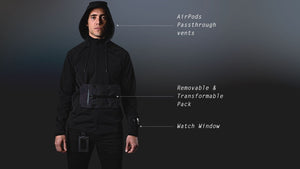 interchangeable and adaptable modular system
Fabric
Ultra Hoodie's high-performance jersey offers the perfect balance of performance, functionality and comfort. It is made possible from our advanced custom 3-layered fabric construction with high-gage weaving first layer fused with a dedicated membrane in the middle layer and patterned fleece in the 3rd layer.