About the Company
Founded in 2016 and headquartered in London, UK, TRANZEND is committed to bringing enduring aesthetics, tech-infused materials, and sustainability together in the apparel industry.

TRANZEND is devoted to create garments for all occasions, and to deliver extreme comfort with convenience. Our design integrates athleisure elements and heritage fashion from sustainable sources – providing every customer the comfort and adaptability for different environments. Previously TRANZEND also launched multiple successful crowdfunding campaigns, including Ultra Suit 1.0, Ultra Suit 2.0 and Ultra Coat, with over half a million USD funded on Kickstarter, Indiegogo, Makuake, and FlyingV.

ULTRA SUIT | ULTRA COAT | ULTRA SHIRT | ULTRA HOODIE
+ High tech: waterproof, eco-friendly, functional, and ultra-stretchable
+ Ethically developed and made from recycled plastic bottles/coffee grounds
+ Designed for the modern men's active lifestyle
Quotes
"We focus on designing aspiring, long-lasting products that provide style and utility value that adapts to diverse scenarios. We aim to change the way people dress, and we want people to know that clothing can be aesthetically pleasing, functional, and ethical all at the same time."
"Our goal at TRANZEND is to create aesthetic yet timeless and sustainable clothing by implementing advanced material technology into unique, versatile designs."
William Chen
Founder and Creative Director
Introducing Ultra Hoodie
Coming soon to Kickstarter.
Ultra Hoodie | World's most advanced modular system on apparel
After our successful Ultra Suit and Ultra Shirt Kickstarter campaign, we're back with our new Ultra Hoodie, a modular design to redifine Hoodie.
Ultra Hoodie is a highly-functional hoodie designed to be the one hoodie you need for travel, outdoors, and every day. Built with a unique DWR fleece fabric, Ultra Hoodie is stretchable and breathable, keeping you comfortable, warm, and dry in all conditions, anytime and anywhere. Ultra Hoodie allows you to enjoy more of the present moment and forget about any restrictions.
Our magnetic modular system is first brought to you to provide a safer and easier way to store your personal belongings. Build to meet different needs, the versatile and multifunctional modular system awaits for you to explore.
A Modular & Highly Functional Hoodie to elevate your day
M-system Design
Most advanced modular system on apparel
M-system Pack_Attached Mode
A compact water resistance pack for your Every-day-Essentials. Magnetically attach/detach to the front of Ultra Hoodie.
M-system Pack_Sling Mode
Transform into sling mode for cross body or simply wear it around your neck. 
M-system Cardholder
Magnetically attach/detach with M-system Strap. 3 individual slots, one for ID, one holds multiple cards with a pull lever for easy access, and another separate slot for quick contactless access.
M-system Strap
Adjustable strap with magnetic mount to quickly snap on/off M-system pack and cardholder.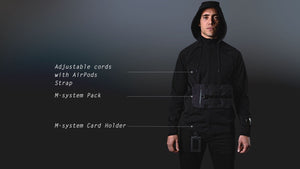 interchangeable and adaptable modular system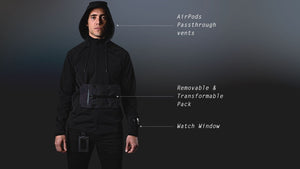 interchangeable and adaptable modular system
Fabric
Ultra Hoodie's high-performance jersey offers the perfect balance of performance, functionality and comfort. It is made possible from our advanced custom 3-layered fabric construction with high-gage weaving first layer fused with a dedicated membrane in the middle layer and patterned fleece in the 3rd layer.